Party Office
2450 14th Ave. S.E.
Albany, OR 97322 ​
Party Officers
Chair, Linn County
Jerred Taylor
Meet Jerred:
My name is Jerred Taylor, and I'm running for the Oregon House of Representatives here in the 15th District. I am a small-town Oregonian, raised in Drain [pop. ≈1000], and Oakridge [pop. ≈3500] where my two brothers and I were taught to hunt, fish, camp, ski, and appreciate Oregon's natural beauty.
I come from a family of firefighters, law enforcement, and manufacturing workers – hard-working people who have put that work ethic toward service to their communities. This strong work ethic, valuing community service, and the responsibility to stand up for what you believe as well as respect the right of others to do the same – these are the values that guide me, more so than party affiliation.
The donkey in the room
Let's make something clear – yes, I am a Democrat running in Linn County. But if you're willing to hear me out, to see where I stand on the issues that affect us, I believe you will find that we agree more often than not.
I am a steadfast supporter of workers' rights, livable wages, and strong safety nets for displaced workers, because people who work hard with dignity and respect deserve to be treated with the same.
I also support reviewing, changing, and removing regulations on both large and small business that lead to layoffs, closures, or relocations, because encouraging new and growing businesses is key to providing opportunity for people here to succeed.
These positions don't have to be in conflict.
This is personal
In late 2017, the manufacturer who I was working for ceased operations, and nearly 100 of my peers and coworkers, including myself, lost our jobs. We were fortunate that both our employer and the state worked to ensure we had access to job training, unemployment benefits, severance, and more.
This isn't always the case.
Lately, There have been a few examples of factories that have closed around the state with no notice to their employees, leaving highly specialized workers with few to no options. We need to work together to ensure every worker in our District has access to the kinds of support services that my coworkers and I did, not just those with our good fortune. We need to do more to both help our businesses, large and small, stay in Oregon and help our workers stay in the workforce.
Over the coming weeks, I will be meeting with folks around the district to discuss their own experiences. Join us, and help bring a new perspective to the legislature.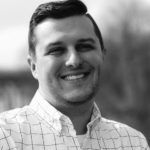 Party Office Holder
Chair, Linn County
Contact info
Website
(541) 912-2720
Vice Chair, Linn County
Stephanie Newton
Party Office Holder
Vice-Chair, Linn County
Contact info
(971) 322-9784
Vice Chair, Linn County
Michaela Martin