For Immediate Release
Contact: Molly Woon
[email protected]
September 2, 2020
PORTLAND — Republican Secretary of State Candidate Kim Thatcher joined a who's who of right-wing candidates Friday in Roseburg, for what local TV station KPIC called a "Pro Trump" rally. Other candidates in attendance included Republican Senate Candidate Jo Rae Perkins, a well-known QAnon supporter.
Thatcher's appearance at the "Cruise for Trump" rally came just three days after she posted on Facebook that she does not "believe it is proper to express either support or disdain for any candidate on the ballot" as a candidate for Secretary of State.
"Kim Thatcher wants to be Oregon's Secretary of State — and she's willing to say anything to get the job," said KC Hanson, Chair of the Democratic Party of Oregon. "While she tries to downplay her history of extreme positions, she's still signaling to her Republican base that they can count on her to be a team player in support of Donald Trump."
As a 2016 Trump delegate to the Republican National Convention, Thatcher has done little to distance herself from Trump and his administration's positions, including his hard-line stance on immigration, corporate handouts, and attacks on civil liberties.
"With Trump's popularity tanking across the nation, Thatcher is trying to have it both ways," said Hanson. "Despite her clear record of support for Trump, she's play-acting as a moderate to woo Oregon voters — the vast majority of whom are firmly against his inept policies and hateful rhetoric."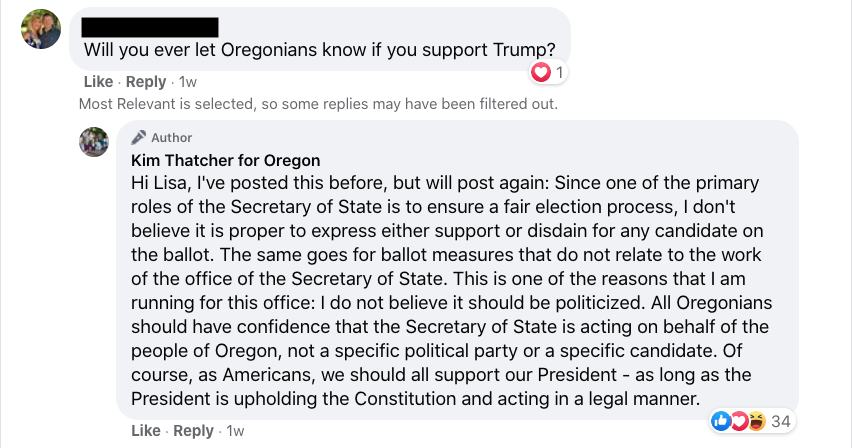 ###