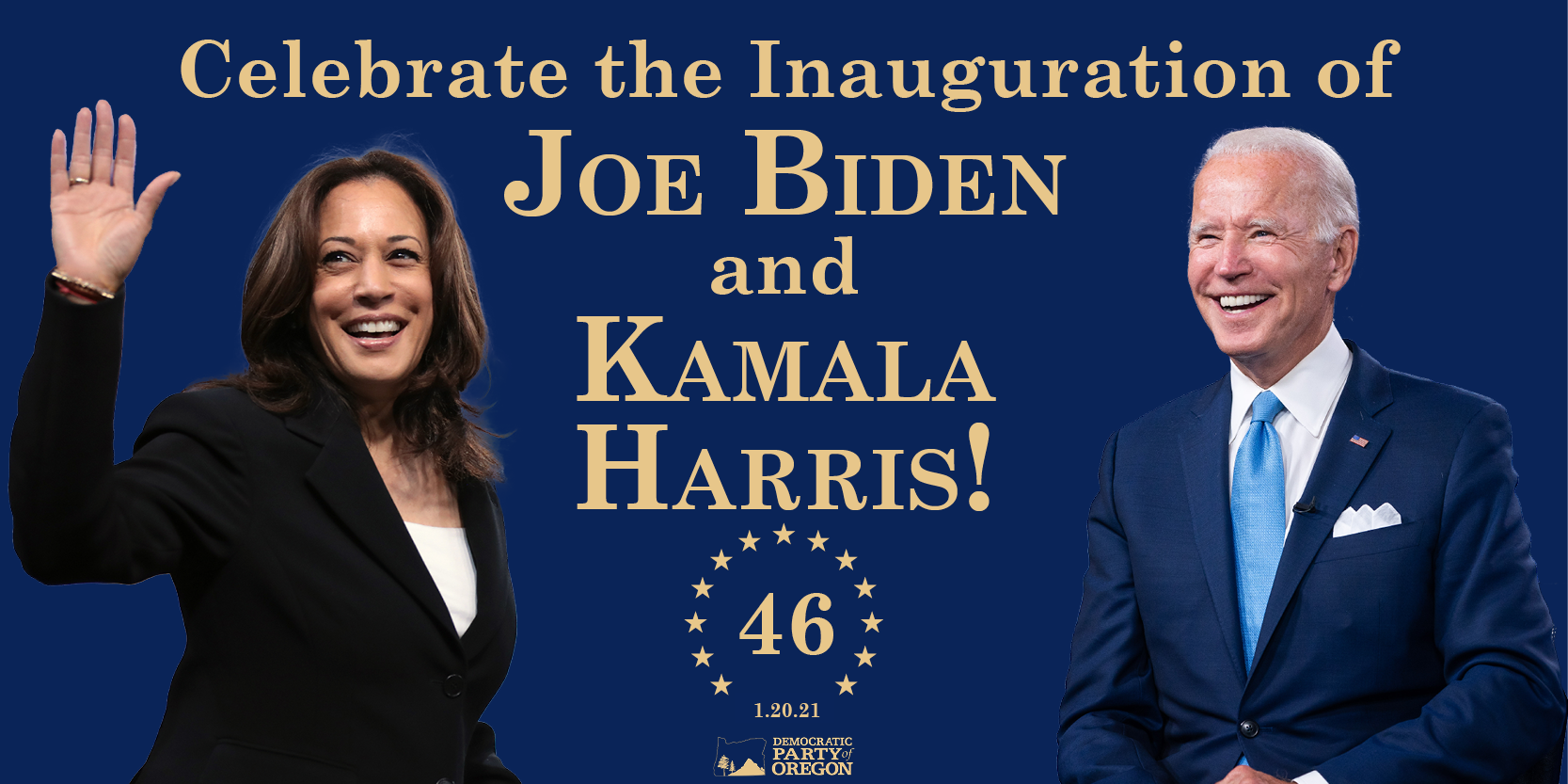 For many reasons, the Inauguration is going to look different this year. The Presidential Inauguration Committee is strongly encouraging everyone to follow public health best practices and NOT travel to Washington, D.C.
Instead, this year you'll be able to join in the ceremonies and festivities from the comfort of your home!
Many of the usual inaugural events are being reimagined to have a very limited footprint, both in order to protect public health and to make it more accessible to folks joining in from all across the country.
Here's a brief schedule of the events for the three days of inauguration celebrations. To watch the inauguration events, visit dpo.org/watch, or go to bideninaugural.org/watch.
Monday, January 18th
Together We Serve
President-elect Joe Biden, Vice President-elect Kamala Harris, and millions of our friends across the country will join forces for a national day of action to lift up our communities and serve our neighbors.
Oregon Stock The Shelves
In these difficult times our community food banks have been overwhelmed and working hard to support those most impacted. We are coordinating volunteers in every county to donate high-need food and hygiene items to food banks across Oregon to help them meet the needs of our community.
Tuesday, January 19th
Memorial to Lives Lost
On Tuesday, join President-elect Joe Biden, Vice President-elect Kamala Harris to honor the neighbors, friends, and loved ones we have lost to COVID-19 while paying tribute to the strength, courage, and patriotism of the healthcare and frontline workers who have risked their own health to serve those in need.
Wednesday, January 20th
Inauguration Day
President-elect Biden and Vice President-elect Harris are officially sworn into office! The inaugural presidential escort will take place that afternoon, followed by a televised celebration hosted by the new President and Vice President later that evening.
2021 Virtual Oregon Inaugural Celebration
Join us Wednesday evening to celebrate the Inauguration of Joe Biden and Kamala Harris!
Starting at 4:45 pm, come together (virtually) with Oregon Democrats to celebrate this historic day, a culmination of all of our hard work over the last four years. We'll hear from some of Oregon's leading Democrats, including Sen. Ron Wyden, Sen. Jeff Merkley, Rep. Peter DeFazio, Rep. Suzanne Bonamici, Governor Kate Brown, Secretary of State Shemia Fagan, and Treasurer Tobias Read.
The event is free to attend – tune in at dpo.org/watch.
We'll have more details on how to get involved, tune in, and celebrate the inauguration (including special virtual events and service opportunities for Oregon Democrats) as we get closer. Keep an eye on your inboxes, and check back to this page for the latest updates.